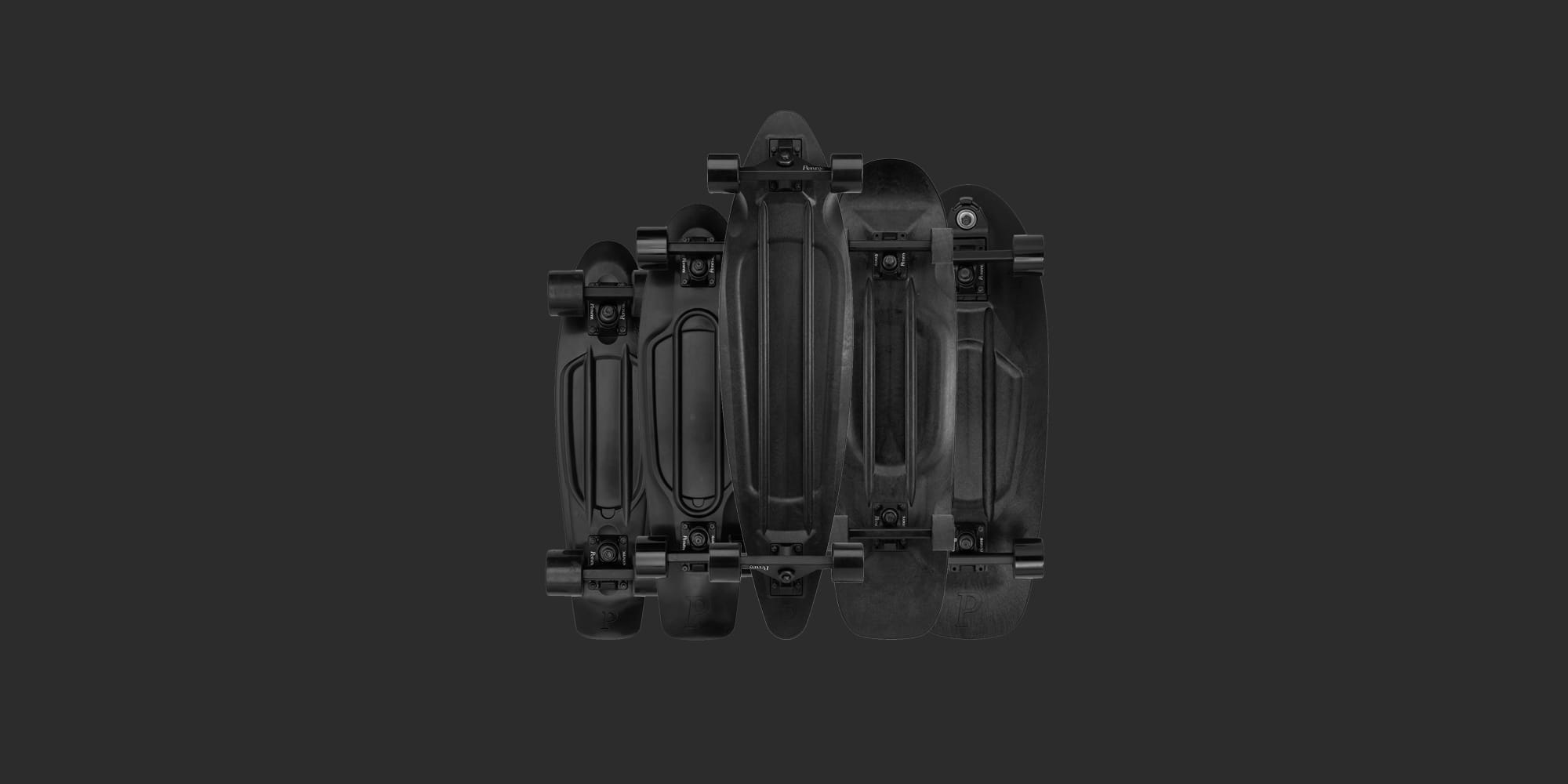 Which size is best for you?
Penny Skateboards come in five different sizes. The Original 22" Skateboard, the slightly larger 27" Skateboard, the 29" Surfskate, the 32" Skateboard, and the 36" Longboard. Regardless of their size, all models are great for different skating styles.
Quick, nimble, portable
22" Skateboard
The Original Penny Board. The 22" Penny is a great size for skaters looking for easy transportation and small enough to fit into a backpack for travel. It's also great for those younger riders who are on the smaller side.
✓ Ultra portable & lightweight
✓ Sharp & zippy ride
✓ Great to commute around town or college
✓ Less stable than our 27" skateboard
✓ Great for smaller riders
Our most popular size
27" Skateboard
The 27" is the ultimate all round skateboard. This board boasts the same great features as the 22" however its larger deck is great for perfecting new skate tricks or beginners looking for a little more stability.
✓ More board under your feet
✓ Very stable, fast & smooth ride
✓ Great over long distances & hills
✓ Better for beginners
✓ Easy to balance & make turns
Surfing on the streets
29" Surfskate
Designed for the flat-day fun, the 29" Surfskate replicates the feeling of surfing the streets. This board is developed for skills progression, tight carves and pumping you'd normally get on a surfboard.
✓ Replicates the feeling of surfing the streets
✓ Utilizing Warterborne patented truck technology
✓ Ultimate for carving, turning & pumping
✓ W-Concave deck for perfect foot placement
✓ Lighter & stronger than timber surfskates
✓ Great for surfers or aspiring surfers
A board for extra tricks
32" Skateboard
Our 32" cruiser is our most versatile board to date. The stiff nose and tail allow you to pop up curbs, grind a ledge, film your friends or just cruise the streets. With a shape and size modeled after the cruiser boards of decades past.
✓ Hybrid double-kick cruiser
✓ Added to the mix for extra tricks
✓ Great to get around town or street skating
✓ Hybrid wheels for a smooth and fast ride
✓ Built with our secret plastic and fiberglass formula
A cruiser's dream
36" Longboard
The Penny 36" Longboard is a cruiser's dream. The classic, relaxed ride of your favorite Penny is now available in our longest board yet.
✓ Perfect for cruising, traveling and downhill rides
✓ Comfortable & easy to manoeuvre
✓ Super stable ride for long rides
✓ Ultimate beginner board